IBM Connections Cloud enhancements for July 2017
Tags :
ibmconnections
cloud
ibm connections
ibmverse

IBM has released what's new for IBM Connections Cloud for July 2017. Here is some of the updates

Verse for iOS 9.4 performance, scalability, and security enhancements
Verse mobile for iOS just got better with enhancements to performance, scalability, security, and ease of use. This release contains general performance improvements for Inbox, Calendar, and Contacts views.

Connections: Get started fast with guided tours
New guided tours provide first time users and experiences users alike with a quick view of main features and actions on the Home Page, Communities, and Files. If you cancel out of a tour, you need to clear your browser cache of cookies to have them run again. The new tours replace the "Welcome Boxes".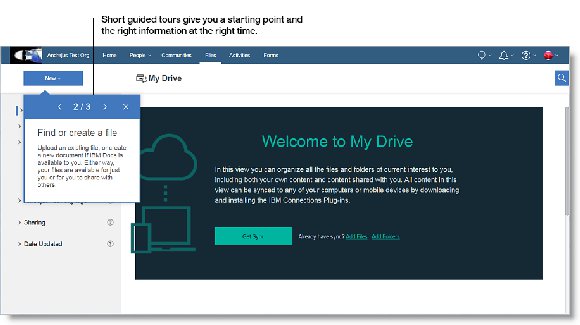 Connections: More options for designing a Community home page
Now you can design modern Communities with new navigation, new layouts, and defined app styles.

Connections: Save time by copying a Community
When you want to create a new Community, it's easier to copy an existing community rather than creating one from scratch. Copy a Community to create a Community with the same layout and structure as the existing community. When you copy a Community, you get the title and description, access settings, and apps. What isn't copied are Community members, files, app content, and images.

Connections: Sync folders and files to your desktop
Files introduces My Drive, a repository where you can organize files and folders, whether you created them or they were shared with you. File or folders you add and edit in My Drive are automatically synchronized to your desktop so you always have the latest version of the content. Syncing is a way to automatically replicate changes to your content, whether you created it or whether it was shared with you, even when multiple people are acting on the content. You can access the files from your local desktop, or from another device, and feel confident that you always have the latest version.


Connections: Navigation bar responds to your window
Connections Cloud features a responsive navigation bar, which means the list of applications displayed will adjust to the width of your window. As you reduce the width of your window, applications that no longer fit on screen move to the More menu. As you enlarge your window, more applications become visible. If your window is very narrow, and no applications fit, they are all listed under one Apps menu.

See the previous IBM Connections Cloud enhancement posts right here (and previous SmartCloud naming ones) on IdoNotes

Next Document | Previous Document