IBM Connections Cloud enhancements for April 2017
Tags :
ibmconnections
cloud
ibm connections
ibmverse

IBM has released what's new for IBM Connections Cloud for April 2017. Here is some of the updates.

Verse
Verse: Automatically show remote images

Messages that contain remote images can pose a security risk. Up until now, if you wanted to see an external image, you had to click Show Images in each message containing external images. However, if you are willing to trust external images, you can have Verse automatically show remote images for all messages.

There's a new setting in Mail and Calendar Settings > Security where you can set a new default to Always show remote images.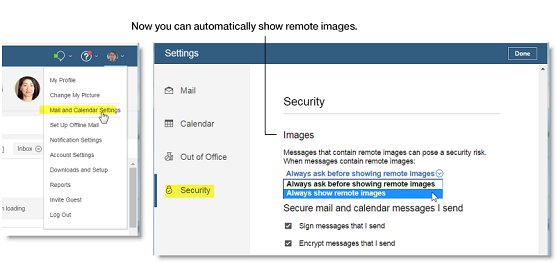 ---


Verse on Android: Persistent password for encrypted emails

Verse now saves your password so you're not prompted for it again while viewing encrypted messages.

To read an encrypted message in Verse Android, the mail password must be entered. Previously, the password was cached for 30 minutes, the default max screenlock timeout interval. If you opened an encrypted message after that time you would be prompted for your password again. This proved to be inconvenient for organizations which encrypt all their messages. Passwords are now saved in encrypted storage, so once you enter it you are not prompted for it again.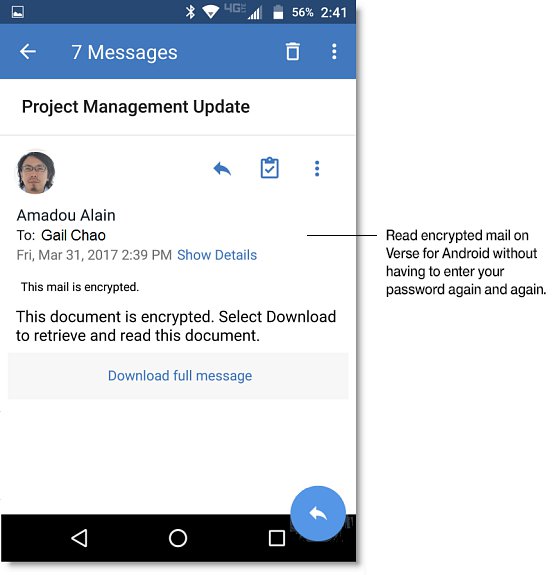 Connections
Connections: Like something? Show some heart!

Now you can put your heart into it when you like something in Connections Cloud. The new heart icon has universally replaced the word "Like" or, in some places, the happy face icon.

Click the heart icon

to like a file, blog, status update, or comment.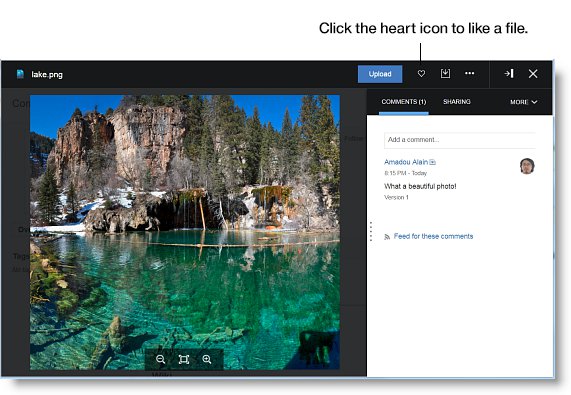 ---


Connections: New navigation bar now on business partner pages

The new navigation Bar that has already been enabled on IBM Connections Cloud pages will be extended to business partner app pages on or after April 28, 2017. This allows IBM business partners to fully use the newest navigation bar features.

Administration
Administrators: Integration server supports City and Zip Code headers

During an Add or Update action using provisioning files or change files with the Connections Cloud Integration server, the City and ZIP Code can be used as headers to update the corresponding fields in the Address record.

---


Administrators: Enable navigation bar base64 extension icons

Administrators, for increased security, enable navigation bar base64 extension icons. This change allows only base64 encoded icons to be used in the Application Registry navigation bar extensions to enhance security. Administrators must update their icons if not already encoded.
---


Administrators: Navigation Bar now uses new extension registry

Administrators: Navigation bar now uses organization extensions migrated into the new extensions registry.
The organization extensions shown in the organization extensions UI will appear slightly differently.
Unsupported Navigation bar extensions features will be deleted.
Previously disabled extensions will be deleted. The new extension framework does not support previously disabled extensions.
Migrated extensions links will now be displayed vertically at the bottom of the More drop down menu.
---

Administrators: Display multiple subscriptions on one page

The Subscriptions page shown in Admin > Manage Organization > Subscriptions now allows you to view 10, 25, 50, or 100 items per page. This change can help you easily navigate the list of multiple subscriptions available to your organization.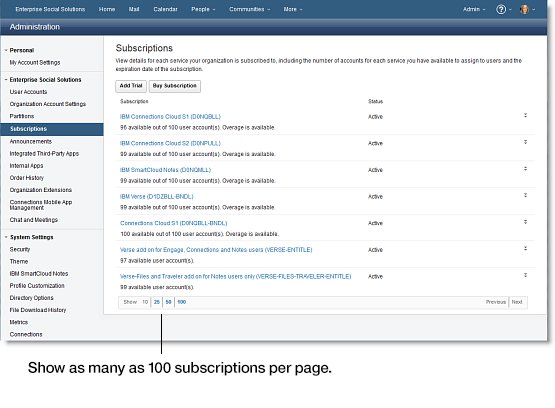 See the previous IBM Connections Cloud enhancement posts right here (and previous SmartCloud naming ones) on IdoNotes

Next Document | Previous Document