IBM Connections Cloud enhancements for March 2017
Tags :
ibmconnections
cloud
ibm connections
ibmverse

IBM has released what's new for IBM Connections Cloud for March 2017. Here is some of the updates.
Verse Mobile: Android users now can view mail as threaded conversations

Verse Mobile is introducing visual grouping of messages and their replies into threaded conversations or threading. You have the option of viewing messages individually or as a grouped thread.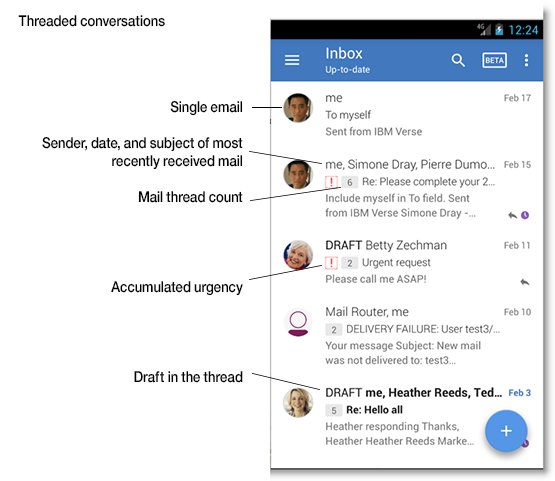 A thread is shown as one item in the Inbox or folders
Forwarding rather than Replying starts a new thread
Changes in subject do not start a new thread
Enabled by default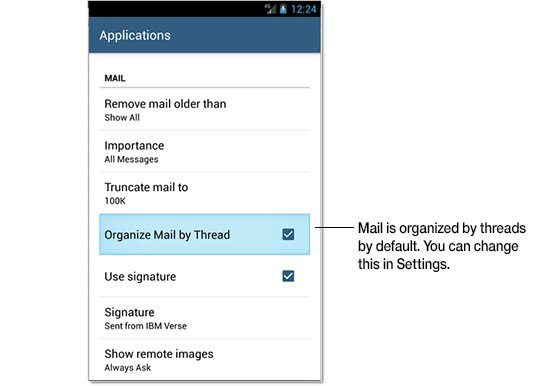 ---



IBM Mail Support for MS Outlook: Accumulate more than 30 days of mail

As an IBM Mail user on MS Outlook, you can accumulate more than 30 days of email up to
50 GB.

Typically when you first migrate your mail and sync to the cloud, you download 30 days of existing mail locally. What's new is that now, after initially downloading 30 days worth of email, you can over time accumulate up to 50 GB of mail without any time limit. For example, after six months, you'll have seven months of local mail. The accumulated mail is carried over if you switch to a new computer or you create a new Outlook profile.
---



IBM Mail Support for MS Outlook: Calendar rich text content

By default, Outlook users who have IBM Mail Support for MS Outlook (IMSMO) can now see Calendar rich text content in the description field (tables, fonts, and so on) instead of plain text. Outlook users can also insert rich text into Calendar entries. There is no change to the attachment limitations in Calendar entries at this time.
---



Developers: Extend the navigation bar to add menu items

While we told you about this new extension point last month, we've updated the description to give you the correct help link.

See Managing applications for Verse or the Top Navigation Bar.

Add, modify, or delete menu items in the Verse or Connections Cloud navigation bar. Organization administrators can now extend the navigation bar in the following ways:
Add links to the top level navigation bar
Add new menus (and menu options to the menu)
Hide (disable) existing links at top level or inside a menu
Hide (disable) an entire existing menu

---


Developers: Extend the Verse mail send command to hook before sending

IBM Verse is introducing an extension point to allow developers to call other services when a user is about to send a message. This extensibility point allows businesses the opportunity to ask users to validate actions or information before proceeding to send a message.

For example, some companies like to ensure that every email meets security requirements before it's sent. Some countries may prohibit sending work emails after a certain hour. In some countries, similar names are so common that companies want their employees to confirm recipients before sending.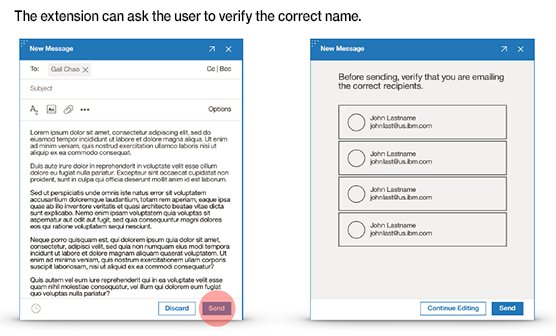 Note that the extension cannot force users to make a change; it can just advise them that they should. Look for the ability to disable send in an upcoming release.
See the Verse extensibility documentation
---

Developers: Extend Verse to create a custom name picker

IBM Verse is introducing an extensibility point to invoke a custom name picker when composing. This extensibility point is designed to give organizations, system integrators, and business partners the ability to develop their own directory search solutions.
Why write a custom name picker for IBM Verse? In some countries, similar names are so common that companies want their employees to see additional information about recipients when choosing a name. A custom name picker allows users to search for recipients using various name filters. Or a name picker might help narrow a name search to a certain locale.

For example, when a user composes a message, the To field is clickable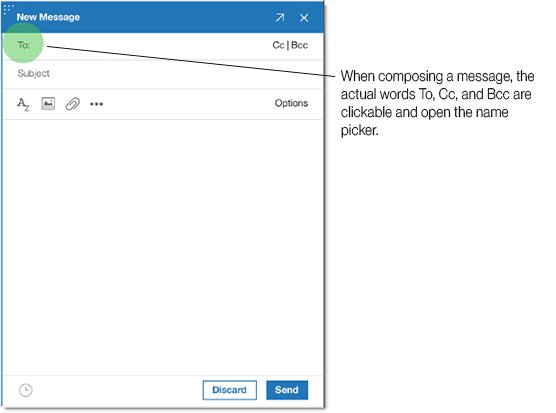 The name picker then appears, covering the message body. The user can drill down by location or department to find the correct name: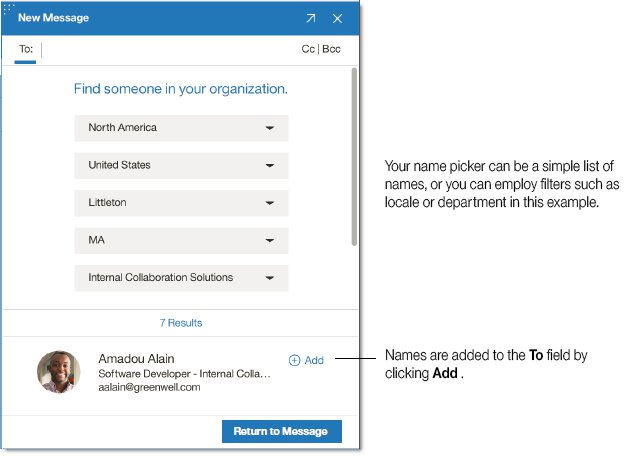 For a tutorial and instructions on creating a name picker:
---


We want your opinion of IBM Verse

How likely are you to recommend Verse to a friend or co-worker? Beginning this month, we will be posing this question to random users at random times. Not everyone will get the survey, but we thought you'd like to know that it's coming. Thanks for helping us become the best mail and calendar program on the planet.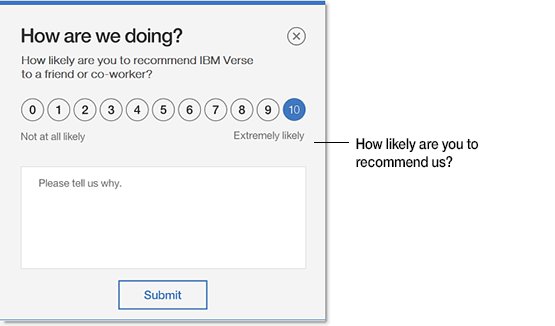 SmartCloud Notes
Administrators: New process for when SmartCloud Notes mail is over quota

Effective immediately, when a user's mail file is over quota, a number of new messages are temporarily held for delivery, instead of immediately returning a non-delivery or failure notice back to the sender. Also, users whose mail files have reached quota are now notified about this issue.

The following list describes what happens when a mail file reaches quota:
Messages (up to 1,000 - subject to change) sent to a user whose mail file has reached quota will be held for 3 days (subject to change) so that the user can take action to reduce the mail file size.
Users will receive an email that they have reached quota and there are messages waiting. They are advised to take action such as deleting or archiving messages. If users don't take action to reduce mail file size and empty trash the held messages will be returned to the sender after a period of time.
Held messages are stored "first in first out". If the held messages exceed the limit (1,000) then the oldest messages will be returned to the sender making room for newly received messages.
No configuration is required. This enhancement is being enabled for all users.

Previously, messages sent to a user whose mail file was over quota resulted in a Non-Delivery Report (NDR) being returned to the sender. Depending on the client used, users who were over quota might have been notified that they were over quota.

Again, no configuration is required, this feature has already been enabled for your users. We are already temporarily holding messages for your over-quota users. We suggest that you encourage users to delete or archive messages, and then to empty trash.

If you have any questions please contact IBM Support by submitting an online Service Request. You may also refer to the Support Information page for additional contact information
---

Administrators: Reset password API for SmartCloud Notes

This API allows applications to reset the Notes ID file password for ID files available in the SmartCloud Notes ID Vault. The new password is passed as an HTTP header X-HTTP-Query-Password. Password length must be at least 8 characters
For more information, see Reset Notes ID File Password.
Connections
IBM Docs: New financial formulas

IBM Docs has new financial formulas for the Spreadsheets editor.
---


Meetings: Prompt participants to join call in-progress

When a moderator starts the audio or video portion of Connections Cloud Meeting, participants now receive a notice asking them if they would like to join. If a participant enters the meeting room while a call is in progress, the participant will be notified on entry and prompted to join the call.




---



Meetings: Support for 64-bit Chrome and Firefox

Moderators or participants running a 64-bit version of Firefox or Chrome can now participate in an audio/video call within the meeting. The experience in these browsers will be a floating audio/video window.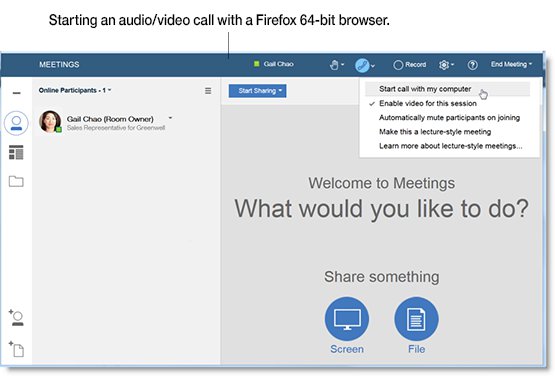 Administrators
Use Cisco Jabber, Spark, or WebEx with Connections or Verse

Organizations using Cisco Jabber, Cisco WebEx or Cisco Spark can choose to use WebEx Meetings or their preferred Chat tool for Click-to-Chat from IBM Connections and Verse. These features will be available on or after March 27, 2017.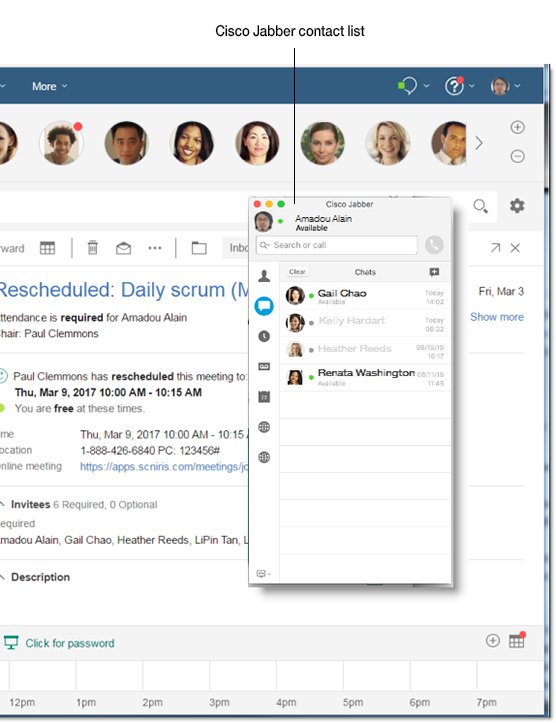 You can make Cisco applications available to one user or the entire organization. You can configure only one chat program but you can deploy more than one meeting program. For more information, see the following documentation:
---


Connections Compliance for Social

IBM Connections Compliance for Social is a new offering of Connections Cloud that supports effective enforcement of your organization's acceptable use policies.
Helps protect your brand and reputation with monitoring and alerting
Helps reduce legal costs through fast and simple content review and retrieval
Enhances return on investment (ROI) by extending the life of existing archive and eDiscovery investments
Includes an archive feature that can reduce the cost of eDiscovery by uniquely displaying social content in context
Features a single repository for social and other real-time communications
Offers preservation of context in an easy-to-view format
Provides ease of search and review through identity reconciliation across data sources

IBM Connections Compliance for Social is provided by Actiance, an IBM Business Partner and an industry leader in security, management, and compliance solutions for unified communications, collaboration, and social networking platforms.
---



Subscribe to What's New

Subscribe with your favorite RSS feed reader to read about new and changed features.

Be notified of new features and changes as they go live. Go to What's New and click Subscribe > Recently added articles in this category.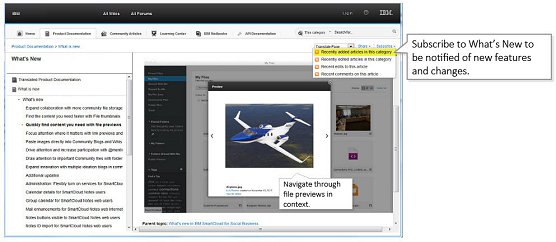 See the previous IBM Connections Cloud enhancement
posts
right here (and
previous SmartCloud
naming ones) on IdoNotes

Next Document | Previous Document