Belkin NetCam Wi-Fi HD+ Camera with Night Vision review
Tags :
Belkin
netcam
camera
product review


The Belkin NetCam Wi-Fi HD+ Camera with Night Vision (F7D7602) is a great indoor camera with automatic triggering, cloud recording ability, mobile apps and simple configuration. Let's clear something right away. The camera does what the product states it will do. While we always have plenty of suggestions for improvements, I didn't find any areas where it did not function as stated and designed.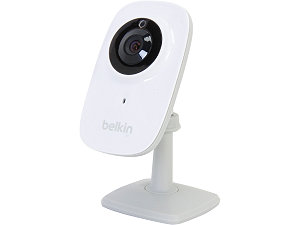 This is an indoor camera only and I would not even leave it in direct sunlight all day. You will also need to register an account with Belkin. You do not have to subscribe to any of their services, such as the cloud recording, but the account is required. This camera is made to connect to their servers. If you are on your iPad or mobile device and connected to view the camera you will see you do not go to the Internet in their status and are LAN connected. But the initial opening of the application does go out to the Internet to find what camera are online.
As we show in the video, the setup is as simple as plugging in the camera to a power outlet, flip of a switch on the back to configuration mode (up) and connect to the camera directly via wifi. Configure all the settings you desire (connection info for your wifi and more) and save. Flip the switch into camera mode and your iPad or mobile device back to the normal network and you will see it get online.
They designed the
Belkin NetCam Wi-Fi HD+ Camera with Night Vision
camera with the wide angle to save costs on a motor to move the camera head. I appreciated the 720p ability and really would not need a full 1080p camera for everyday home usage. The ability to save snapshots to my local device while watching was nice, and the audio works well for listening in rooms and close. The microphone volume for you to speak with them is not loud so keep that in mind. we also test the night vision capabilities in the video and that worked very well. If this camera is always in a dark place you could have it set to always be in that mode or leave the default for automatic.
The application was easy to use, but I wish you could rotate the screen portrait so I could have multiple cameras viewed at once. Like a stacked grid. A great way to have multiple cameras viewable. The web interface was fine but a bit dated. Updates there would be very welcome if I wanted to use this while at work and couldn't have my iPad or phone on the network.
Mounting screws are provided, but are very basic. The
Belkin NetCam Wi-Fi HD+ Camera with Night Vision
camera is light so they should hold but I went ahead and did a better mount for the camera. I do wish that you could detach the camera fully from the stand to place it somewhere a bit more hidden. The stand did have good swivel range to place it at most every angle.
The camera also allows you to share the stream and feed with others. This is great for house sitters, grandparents and others. A great way to share who can see the camera without full configuration control of it. Keep that in option in mind when choosing a camera. If you have the cloud recording services you can go back and view events that were recorded later. They will need to build a better export system if you ever needed clips for the authorities.
The recent firmware update gave better integration with the
Wemo system
so make sure you apply that. Watch the video for more of our review.
You can get the
Belkin NetCam Wi-Fi HD+ Camera with Night Vision
today.
As a favor
, even if you are not buying on Amazon.. click
Yes
while there to at least let them know the review is helpful.
Please see all the
product reviews
here on IdoNotes and subscribe to the SpikedStudio channel or
product review playlist
on YouTube

Next Document | Previous Document