Belkin WeMo Motion Sensor review
Tags :
Belkin
WeMo
sensor
home automation
product review


The Belkin WeMo Motion Sensor is a single piece unit that has the power connector and the motion sensor connected via a long cable. This can be used stand-alone or as part of the larger Belkin WeMo system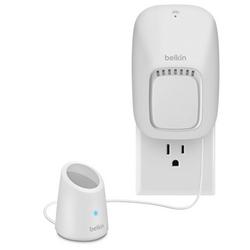 If this is the first part you are setting up in your home of Beklin WeMo systems do the following:
- Load the free WeMo app from belkin on your device (look under iPhone apps if using an iPad)
- Plug in the motion sensor into any outlet
- Connect your iPad or iPhone (or Andrpoid) to the actual WeMo that shows up (not your home wifi yet)
- Configure the WeMo to use your wifi (see the video for comments on passwords)
- Establish a Belkin WeMo account
- Change your device back to your home wifi and start configuring rules and other settings
It is really that simple. Keep in mind the
Belkin WeMo Motion Sensor
only provides alerts or works with other WeMo units to turn them on and off. By itself it is really a notification sensor only. I played around with using it near a doorway to make sure the sensor functioned properly all the time and it did. Anything that moved within 10 feet or so triggered it. So if you have pets keeps in mind they could rigger the sensor easily.
One thing I did not like is that the cord for the
Belkin WeMo Motion Sensor
basically blocks the lower outlet slot for some other larger plugs that may need it. Flipping the WeMo over blocks them both. Putting it in the lower blocks them both. So a power strip would be better or think about making sure the lower outlet only has a smaller plug going into it.
Since doing the original review I have now connected it to one other WeMo device and am slowly expanding the network of devices. Look at services like "If That Then This" to help automate.
You can get the sensor right here on Amazon
http://idonot.es/belkinwemomotion
. Do not forget to click the yes button that our review helped
Make sure to subscribe on YouTube to keep up with all of the product reviews and CES 2014 interviews.

Next Document | Previous Document