Be a Leading Authority Through Live Video - webcast Aug 17
Tags :
webcast
niche
video

NOTE: due to an emergency this was moved a week later to Aug 17th

I am happy to be part of Instantly turn your business into a leading authority in your niche through live video - 5 simple steps, This webcast is Aug 17, 2016 at 10am CST. Registration is still open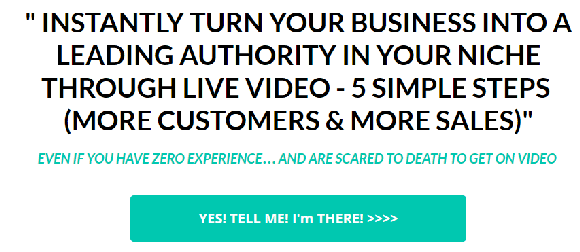 How to get started with LIVE video even if you are scared to death to get on video.

How you can establish yourself as an expert so that you can attract engaged audience who love working with you and in turn provide DWOM (Digital Word of Mouth).
How to feel super confident in dealing with all of thetechie geeky stuff that had you feeling freaked out and kept you playing small.
The fastest way to get leads in 1 Hour with Live Video (seriously?)
The 5 steps to growing your business with live streaming.
Plus a LIVE Q&A Session so you can get all of your questions answered (ask us anything!)
Even if you have zero experience and are scared to get on video this can help you get started. Register below!
http://bothsidesofthecamera.com/chris-miller-monique-johnson-webinar/

Next Document | Previous Document