IBM SmartCloud for Social Business new features launching Jan 2014
Tags :
SmartCloud
cloud

IBM has announced new features in IBM SmartCloud for Social Business going live around January 11 2014. Here is a summary of enhancements and changes

New meetings and chat changes: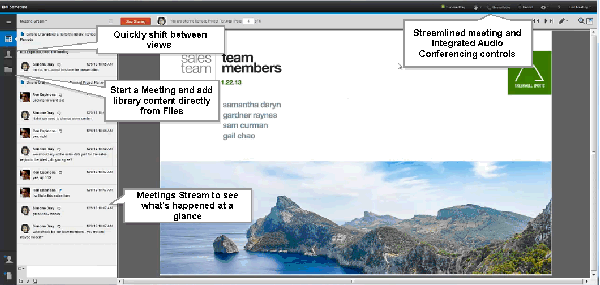 Download a new version of the Sametime Connect rich client
Navigate the chat and meeting applications, and launch their communication tools more easily with new context sensitive icons and user flows that have been streamlined to minimize the number of clicks
Share rich content immediately with file transfer* and screen-capture in web chat
Launch a meeting directly from a shared document in Files
See at a glance what's happening with the new Meeting Stream that shows the chat discussion, when people share files, join the meeting, interact with poll questions, etc.
Use additional meeting tools located next to the Audio Conferencing controls (if purchased as an add-on)
Use new Meetings and Audio Conferencing reports available to subscribers
Use new mobile applications that allow users to not just attend, but take control, share content, collaborate, and manage their meetings
Use Meetings effectively with Chrome
Use Federated Identity Management (SAML) support for the Chat plugin embedded in Notes
New "social" capabilities for SmartCloud Docs
Presentations supports AirPlay® Mirroring and dual-screen projection. While your audience sees the full-screen slide show, you can see the slide show, speaker notes, timer, and annotation tool on your iPad®.
Import and export .xslx and .pptx files
In spreadsheets, customize the look of new or existing charts, and edit chart data ranges without going back to the sheet
These new capabilities are available for SmartCloud Engage and SmartCloud Connections subscribers.
Make sure you subscribe to the YouTube channels for both
IdoNotes
as we prepare for IBM Connect 2014 and to
Spiked Studio
for all the recent CES news.

Next Document | Previous Document