IBM officially launches IBM developerWorks Premium
Tags :
Bluemix
SoftLayer
developerWorks

IBM officially launches IBM developerWorks Premium for an annual price of $399 USD per year. Here is what you get with the annual subscription available to over 60 countries.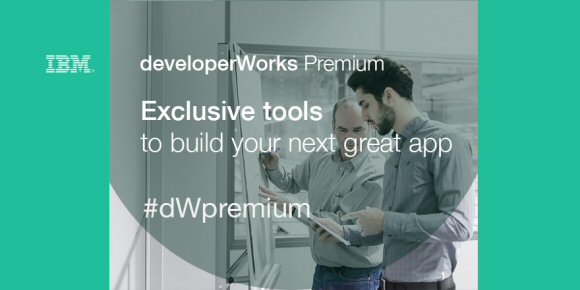 developerWorks Premium members enjoy:

12-month Bluemix subscription
240 USD credits on Bluemix to develop apps with services including Watson, IoT, mobile, and many others
Credits of 45 USD per month to create your development sandbox in SoftLayer (up to 540 USD annually)
500+ online technical books from Safari covering the hottest developer topics
Complete video replays of recent O'Reilly conferences
Complimentary certification test for IBM Certified Application Developer Certification
Up to 50% off developer events from IBM and our partners--including 50% off

IBM Interconnect

(standard rate)
GitHub Micro personal plan with 5 private repositories for one month
Always-on community support
Here are some additional bits and pieces
from all the pages
on the IBM developerWorks Premium package,
You cannot transfer or share your subscription per the terms of service. So this is not made for a team at a company. Your IBM ID is tied to it. There is also no refunds once purchased. Renewal is automatic so you need to cancel at least
90 days
in advance.
Bluemix trials and Pay As You Go are converted once you sign up. So you cannot operate under both with the same IBM ID. You will be billed for overages in either Bluemix of SoftLayer. Keep that in mind. Credits carry over month to month in Bluemix but not SoftLayer.
SoftLayer gives you a single core VM with 2GB RAM and 25GB space. Anything more and you pay. Bluemix gives you credits plain and simple.
GitHub gives you 5 repositories for 30 days. Keep that in mind, While the package is a year you only have GitHub a month.
Registration discounts in conferences are
first come first server basis
with no numbers published of how many are available. For example you get 50% off the full rate of $1795 for
IBM Connect 2016
. Other conferences have differing amounts.
Remember
I spoke of this
back in early October when rumblings of the change were announced. Here is the full IBM developerWorks Premium
terms and conditions
.

Next Document | Previous Document