IBM Connections Cloud enhancements for July 2016
Tags :
ibmconnections
cloud
ibm connections
ibmverse

IBM has released what's new for IBM Connections Cloud for July 2016. Here is some of the updates
Connections
Search: Find it faster and see your page history
Search has been streamlined to help you find Connections Cloud content faster and it remembers the pages you visited.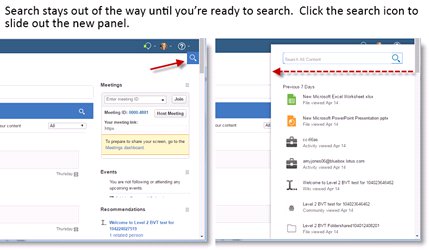 Copy the format in table cells and lists

Now you can copy the format of table cells and lists and apply that format wherever you need it.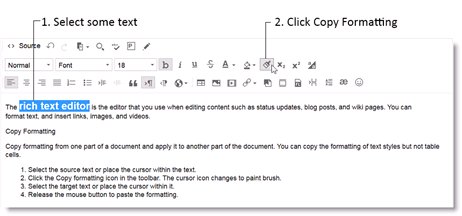 Expand all and collapse all sections in Activities
Now find content faster. Activities has added two buttons that let you open all sections or collapse all sections.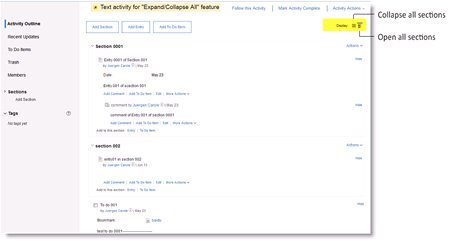 SmartCloud Notes Web
Draft email messages automatically saved
SmartCloud Notes web mail messages are automatically saved to the Drafts folder while they are being created. The messages are saved at regular intervals, so that the draft and changes made to them are maintained. This feature also prevents data loss in the event of a power outage or workstation failure.
Administrators
Mobile SSO Support for ADFS
Updated versions of Connections Chat, Connections Meetings, Connections Social and Verse Mobile apps are targeted for end of July with support for authentication against on-premises instances of Microsoft Active Directory Federation Services (ADFS). 

Please see the following document regarding the specifics of this new support:  
http://www-01.ibm.com/support/docview.wss?uid=swg27048415
Sametime SAML authentication for Microsoft ADFS
Today, Sametime Connect client users enjoy SAML-based authentication with Connections Cloud using Tivoli Federated Identity Manager (TFIM). IBM is pleased to extend SAML-based authentication to work with Microsoft Active Directory Federation Services for SSO scenarios. This applies to organizations that use Connections Cloud Chat but authentication and directory services remain on-premises.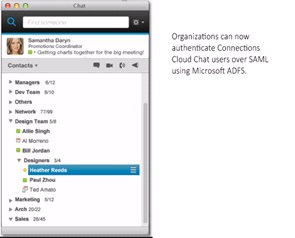 See the previous IBM Connections Cloud enhancement posts right here (and previous SmartCloud naming ones) on IdoNotes

Next Document | Previous Document