HCL Now: Cloud Native-as-a-Service launches!
Tags :
Announcement


HCL has announced and launched HCL Now: Cloud Native-as-a-Service for your HCL Software products in a cloud-first architecture. Easily move your HCL Software products to the HCL managed cloud, start using new updates as they become available and ease administration work of on-premises deployments. HCL Now also helps you avoid cloud lock-in by retaining ownership of your data and deploying in the cloud of your choosing.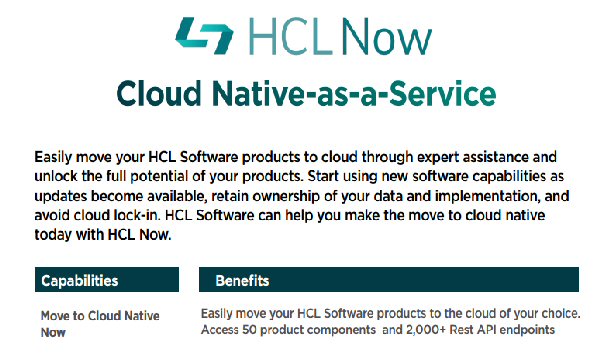 Some early highlights and takeaways from the launch video and materials are:
HCL Now can be run on any private or public cloud
HCL teams will migrate your HCL Software to the HCL Now cloud with expert assistance
Automatic upgrades so you can just run your business and let HCL Now keep your versions up to date
Flexibility to scale quickly and on demand with the cloud-first and cloud-ready architecture
Portable deployment made by HCL Sofy
Learn more about
HCL Now over on the launch site
. For an early look head over to HCL Sofy and get an account registered.

Next Document | Previous Document