Fitbit One Wireless Activity Plus Sleep Tracker review
Tags :
FitBit
calories
fitness



The Fitbit One Wireless Activity Plus Sleep Tracker is an awesome little device that becomes part of your daily routine. I take a look at function, features and some usage tips.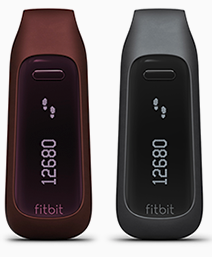 The
Fitbit One
was easy to set up by simply creating an account and syncing it one time. I would recommend you do this via the included USB dongle and not the Bluetooth ability. People have reported issues creating accounts with new devices via Bluetooth so I went the safe route and it worked flawlessly.
The
Fitbit One
comes with a small clip casing, as shown in the video, and a thing adjustable velcro strap for the sleep tracking mode. The clip and device were small enough that you do not even notice you are wearing it throughout the day.
It counted steps, floors up (not down), estimated calories burned, distance walked and a nice flower that grew as you did more activity. All of this can be shown on the small LCD screen on the Fitbit One. An example is in the image above. It also has a customizable welcome message and shows the time.
Keep in mind that it is inconspicuous enough that you need to check you do not toss it in the washing machine. While it is fine with normal moisture like sweat it cannot withstand a wash. I also had to remember to swap it around if I changed into shorts for activity. I wore it clip side out in my pocket just in case the clip broke it would just fall in. The clip was incredibly sturdy and snug and never bent, broke or let it come loose. The rubber ring on the clip that holds the Fitbit One in kept it right in place.
The dongle or Bluetooth allows you to constantly and wirelessly synchronize the
Fitbit One
to your web dashboard. There you can see history, badges earned and start setting goals for weight and calories. You have to enter food by hand and I suggest investigating some applications that work with Fitbit that let you scan barcodes of food and have a larger database. I found most everything but searching seemed harder than some apps like MyFitnessPal.
See the video for more opinions on the web dashboard like tracking water intake, tracking higher activites and the communities.
Overall the
Fitbit One
becomes part of your day and helps motivate you to get up and move around. Maybe take the stairs a bit more, walk the long way to lunch and your car or simple pay attention to what you eat.
Special thanks to AT&T for sending over the Fitbit One to test. The test unit was returned but I ended up buying one letting you know this was not a paid advertisement.
Get your hands on the Fitbit One via Amazon and with Prime have it in two days.
http://idonot.es/fitbitonereview
and also via
AT&T from their online shop
Also, make sure to subscribe to all the
Spiked Studio product reviews

Next Document | Previous Document