BuddyTag - child locator wristband and app review
Tags :
product review
buddytag
locator
bluetooth


The makers of BuddyTag were kind enough to send over BuddyTag child locator devices and water warning via Bluetooth for review. We look at the device, the application and all the functionality in this review.

BuddyTag uses Bluetooth and a mobile phone application to alert you when your child: goes out of range; enables the panic button; possibly falls into water and even can send last known location via email alert. In the video review we dig into how all the pieces fit together.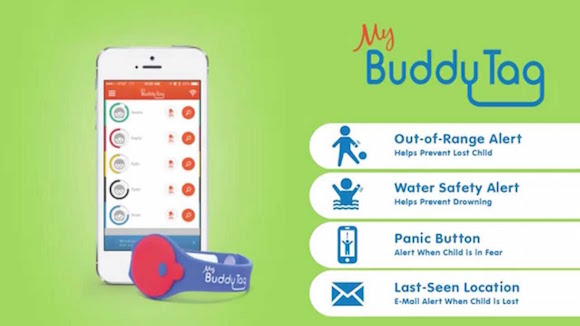 One of the things you should feel confident in is that a BuddyTag can only be assigned to one mobile device at a time. You can easily assign it to another device by removing it from your own, and letting the next caretaker pick it up. This makes watching the kids simple, even when changing who is responsible.


The application is available for both iOS and Android and was simple to set up. The actual tracker can be put anywhere (wrist or clipped on shoe for examples) but they offer silicone and velcro bracelets in all color and even camouflage. I think the writ is the best location as a shoe can easily be pulled off. The grommet for the silicon wrist strap is tightened with a coin so it takes more effort.

The BuddyTag device itself it like any current Bluetooth tracker with the added notification button for panic. I do wish there was a way to disable this for very young kids since it is a draw of the eye for them to press on. Then once they are trained they could cart using it and it gets enabled in the application.

Setup of this was quite simple with one catch I cover in the video. If this BuddyTag has never been assigned to another account/device then a click of the panic button puts it in pairing mode. You then swipe to connect to it and start configuring it. You can set global proximity, proximity per device, location services (uses your phone location) and even the alerts. Each tag can also be individually named for ease of tracking. There is also the ability to set a To and CC email address for notifications with the last location is this is triggered.

Range was tested with the global and per device range settings. Honestly we got mixed results but made it work after some tweaks. You can see where the device is by direction and signal strength in the app. Many other reviews said they could not tell. I am not sure if that was not in the app yet or was not clear how to use it. Either way sometimes it worked great through walls and always worked in open spaces.

Our under water test of BuddyTag went great and you can see that live in the video. Unfortunately there is no way to tell if the device is under water or out of range. The alert is the same. But I guess that does;t matter. If it goes off you should be aware anyway.

The silicone strap was cool. I would never put it on a shoe (still a concern a kid could kick it off or someone just take their shoe off). An ankle or wrist is best. I liked they had other choices as the kids get older. The silicone has a small grommet and the ability to screw the lock on with a coin. I was able to undue it with my finger after some twists. Just an FYI. The underside has a space to write information like a cell number, medical number or whatever you want in marker

What can improve? The application welcome/setup screen. The ability to create an account on their system to store data and tag history. The ability to make the actual tag send off an audible alert from the phone (as many trackers can) to help you find your lost child. Better directional visibility for where the tag is via Bluetooth. SMS alerts and not just email.. More definition on what the range changes mean. The slider tells me nothing.

Overall this is a handy little waterproof Bluetooth tracker for kids that is also hard for them to just take off with the silicon strap. I would hope this gets used by more than just kids though. Elderly and even medical needs could benefit.
You can get My Buddy Tag today on Amazon with all the different color bands and types at
http://idonot.es/buddytagaz
. Even if you are not buying feel free to click yes on Amazon that my review was helpful
Also, see all the
product reviews
here on the IdoNotes blog and subscribe to the SpikedStudio channel or
product review playlist
on YouTube

Next Document | Previous Document