Sengled Pulse JBL speaker LED light review | CES2017
Tags :
Sengled
product review
LED
JBL
Bluetooth
CES2017


Sengled makes a few LED bulbs with cool features. From CES 2017 we take a look at Pulse that puts together a JBL speaker via Bluetooth inside the LED bulbs. You can have a master and satellites connected for up to 8 bulbs in a full audio experience.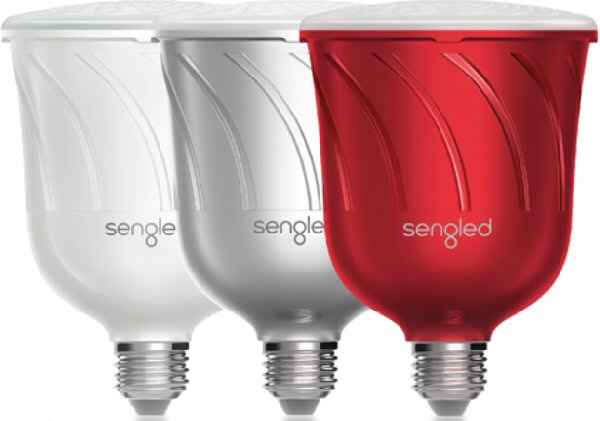 The Sengled Pulse fits into any standard bulb socket, but the shape of the lamp or fixture makes a big difference. They are made perfectly for can type light fixtures. They also work on lamps. However, due to their size and shape they will not fit into every type of ceiling fixture. We tested in both can lights and stand alone lamps. Placing the master bulb and satellite at least a meter apart gives the best sound results.

The light is 8 watts and 600 lumens of white/off-white. There is no color choices with this version. The JBL speakers are 13 watts max each and put out pretty decent sound. When you pair more than one you can get some decent stereo sound. We found that being in a can light fixture gave better sound than a stand alone lamp for sure. We talk about that in the video.

The application has a few flaws but the light worked well and you can stream without the app if required to the JBL speakers. Setup was quick. You start by paring the device via Bluetooth to the master bulb that is marked as master. Using the app allows brightness and volume controls. There are finer settings for tuning, remembering last light levels and more also found. You can add satellite speakers in here as well and control which ones are being used.

Remember that this Sengled Pulse bulb uses Bluetooth and not wifi so range is very important to the device you are streaming from. We only had one drop and that was with the master Sengled Pulse bulb in a can light and we got close to 25 feet away or so. We were able to successfully stream from audio on the device, webpages and videos and also streaming apps. The Sengled Pulse application has a menu option to open streaming apps for you that it finds on your phone or tablet.

The Sengled Pulse has a few accessories like a subwoofer and also a kit for connecting to non-Bluetooth devices like surround sound systems. You can find all of those on the Sengled.com website.

You can grab yours today on Amazon (affiliate link) at http://idonot.es/sengledamazon. Also if my reviews are helpful, even if not buying, click the Yes on Amazon and the thumbs up on YouTube. Please see all the product reviews here on the IdoNotes blog and subscribe to the SpikedStudio channel or product review playlist on YouTube .

Next Document | Previous Document