Rebranding IBM SmartCloud offerings name to IBM Connections family
Tags :
IBM Connections
IBM SmartCloud
rebranding

IBM has announced the rebranding of IBM SmartCloud to IBM Connections. As you can see in the chart below, IBM Connections is now a platform and not a product. We were first told of this at IBM Connect 2014. Here is a quick chart with the new names plus more news.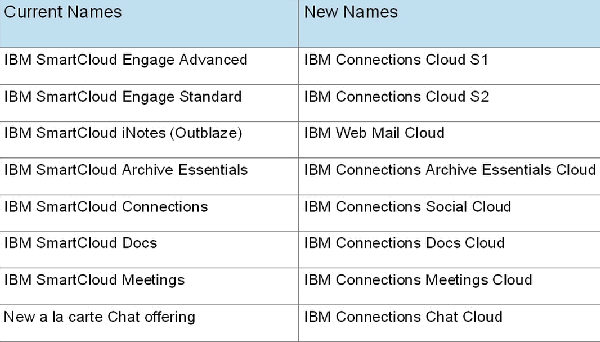 These changes will be implemented on or after September 20.
No customer actions or changes will be required, and no URLs will change.
There will be a dual entitlement option to help you move to the IBM Connections cloud for your email. You can maintain S&S on the specific offering you have on-premises and wish to bridge to cloud.
Chat with audio and video is coming as well as an
a la carte
chat offering. This will allow IBM to offer IBM Connections chat as a service. I am sure more news will be coming shortly.
This was to take place on or after September 20, 2014 per all the emails and alerts I received. It seems this hit the web first back on September 3 2014 by
CuriousMitch
. And IBM
has finally
announced it.

Next Document | Previous Document