OXO Cookware Good Grips Non-stick Dishwasher Safe 10-inch Fry Pan review
Tags :
product review
OXO

Review a 10-inch pro fry pan from OXO Good Grips labeled dishwasher safe with a triple coating non-stick? Sure thing. It has now replaced my older one.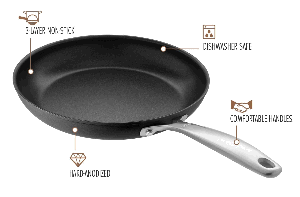 The weight and balance of this
OXO Cookware Good Grips Non-stick Pro Dishwasher Safe 10-inch fry pan
was fantastic. The handle felt sturdy unlike some of the cheaper ones that just look decent. Picking them up and holding the pans is definitely a key factor. I like the larger rivets they used. Most other pans I saw had screws or small rivets.
I always stare blankly at the giant wall of pans when I go to the store. Everyone claims to be better for some reason. I was glad to get this one without having to debate who has the best coating, lids, handles, edges and fifteen other deciding factors apparently. I just need a great frypan.
I noticed right away it said dishwasher safe. I regularly scrape it out (with a nonstick spatula) right when finishing and let it cool down. Then a quick wipe down with dish detergent and water. I try not to put these in the dishwasher since most shouldn't be. But it is good to know if I get in a hurry I can always wipe it out and toss it in a dishwasher and not worry about it,
The triple non-stick coating (according to them) worked great on the
OXO Cookware Good Grips Non-stick Pro Dishwasher Safe 10-inch fry pan
. I did the normal variety of foods in it before posting this review. All cleaned out easily and I didn't use any non-stick spray. (NOTE: the vendor tells you NOT to use non stick sprays so don't). I cooked a variety of things from salmon to grilled cheese to sautéed vegetables. All turned out excellent.
The pan sat flat on the stove which some brands kind of have a curve. Giving you uneven heat on the bottom. I also poured out some liquids since the pan promoted the non-drop edges. I was impressed. They did great.
Ok, one overlooked thing I want to mention. I went ahead and got another pan from this set to replace an older one. The interchangeable lids are awesome. Fewer lids to keep track of that can all cover the same openings make life so much easier. They are glass allowing you see into the pan or pot and sealed well.
This line will be replacing quick a few pots and pans at home. Great job OXO as usual. You can get the
OXO Cookware Good Grips Non-stick Pro Dishwasher Safe 10-inch fry pan
right here.
As a favor
, even if you are not buying, click
Yes
while there on Amazon to at least let them know the review is helpful. Please see all the
product reviews
here on IdoNotes and subscribe to the SpikedStudio channel or
product review playlist
on YouTube

Next Document | Previous Document