Lotus technical documents now on Twitter and full RSS feed
Tags :
Domino 8
Sametime
Lotus Connections
LotusLive
Quickr
Twitter
RSS



Just as I wrote this morning about IBM having tons of Twitter accounts, a great resource launched on Twitter and RSS for those administrators and developers in the Lotus software world. If you need to keep up with news and alerts close to real-time, then this is the solution for you. It covers all the Lotus products.

LotusTechDocs on Twitter and the Lotus Support Megafeed via RSS are both available. Using Yahoo Pipes, the multiple feeds are brought together, each entry labeled and then output into a single stream in real-time. Included are:
Domino 8.5
Domino 8
Quickr
Connections
Sametime
LotusLive
Redbooks
Whitepapers
Tech articles
Tutorials
Both are identical information (with Twitter a few minutes behind due to pushing). So you can choose to get your technical updates via Twitter or RSS. Subscribe today to either resource via
Twitter
or
RSS
.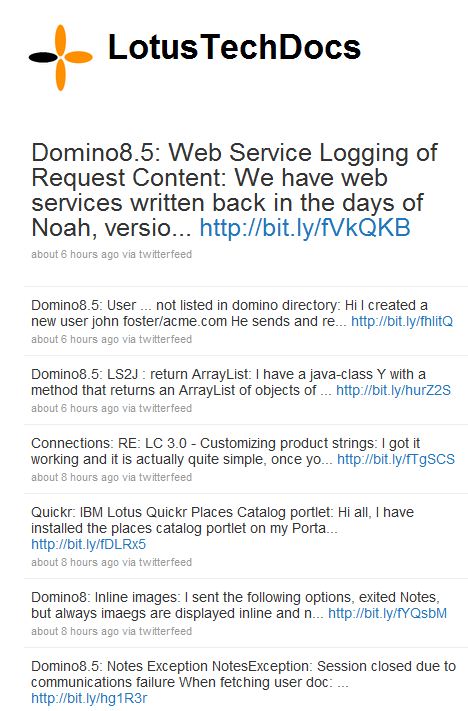 Next Document | Previous Document