iLuv Selfy Wireless Camera Shutter case review
Tags :
iLuv
Selfy
mobile
iPhone
case
camera
shutter


The iLuv Selfy Wireless Camera Shutter case is a dream phone case and detachable device for those that love taking pictures of themselves.
Usually you fight with the camera timer and have to run to get into place. With the Selfy you simply connect the detachable remote via Bluetooth to your phone. Pairing it was easy and since it uses a standard watch type battery (CR2032 Energizer 2032 Battery CR2032 Lithium 3v (1 Pack of 5)) you do not need to worry about charging it on a regular basis. We did not find any indicator light to tell you battery strength however.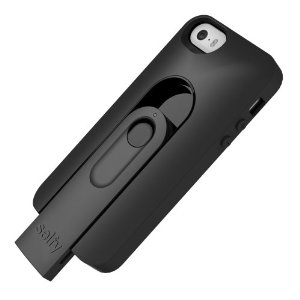 The
iLuv Selfy Wireless Camera Shutter cas
e itself protects the edges of your phone while leaving all the ports easily accessible. We expected that from iLuv as they make many cases. The remote is only plastic so it is light and easily fits in your palm or pocket.
Once you open your camera app on your phone, a click of the remote gives you four seconds before a picture is taken. The edges of the
iLuv Selfy Wireless Camera Shutter case
are ok for flat surfaces but it fails if there is a slight slant. With no built in kickstand you have to rely on finding the perfectly balanced spot. iLuv has made a bunch of accessories to help upsell you into buying things like helmet mounts, tripods and more for this case. You may want to consider adding one.
Overall the iLuv Selfy Wireless Camera Shutter case is a great little tool with NO APP REQUIRED which kept it at four stars. A small built in kickstand would have easily made it five stars. See the video for an unboxing and opinions.
Get your hands on it
here via Amazon
for iPhone 5 (and
here for Galaxy S5
) and at least let them know my reviews are helpful by clicking YES.
Please see all the
product reviews
here on IdoNotes and subscribe to the SpikedStudio channel or
product review playlist
on YouTube

Next Document | Previous Document