IdoNotes Episode 89 - Carl Tyler and I talk Sametime plugins and Plantronics (video) #ls11
Tags :
Sametime
plugin
VOIP
Telephony
Epilio
Sametime
Notes




You can also watch this video in full HD directly on YouTube.

Carl Tyler, Epilio, and myself discuss the new Sametime and Notes telephony plugin he helped develop for Plantronics. The features are awesome, the installer smooth and it is only in beta. The plug-in works across VOIP products, integrates with your status updates and more.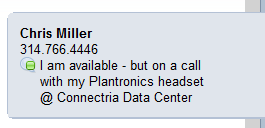 We then walk through numerous headsets and give our opinion on what we use daily. My go to headsets are:
Get in touch with Carl for more information on the plugin beta!
Disclosure: The above links are affiliate links.

Next Document | Previous Document