IBM Makes Mail Next Advisory Program and Apps on Cloud announcements
Tags :
IBM Connections
collaborate
Advisory Program

IBM has announced on the Collaborate or be Left Behind webcast the new IBM Mail Next Advisory Program, IBM Domino Applications on Cloud and IBM Software Services for Collaboration Managed Business Services.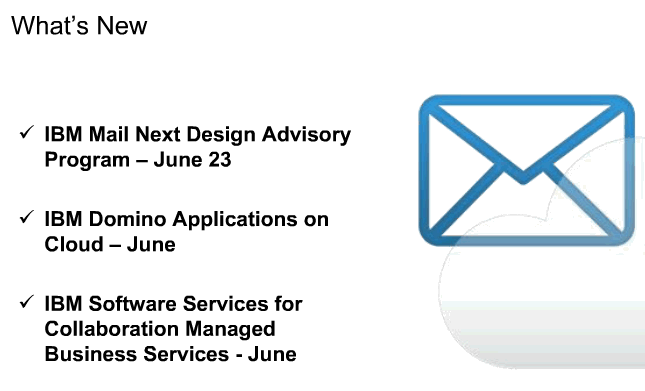 The new IBM Mail Next Design Advisory Program is a total rebuild of the Design partner Program that will be open for you to apply to. There is no link to apply or get more information yet. Look for that soon.
Domino Applications in the Cloud - well I know we have been doing this for about 14 years now so I am not sure what is new here unless there is some deployment model they will not release to the partners. They originally announced this back in January 2014
IBM also plans to introduce Domino Applications in the cloud through a ready-made Platform as a Service offering built on IBM SoftLayer. As a result, customers will be able to build on the investments they have made in custom applications and enhance them with new mobile options. Partners will also have a faster path for bringing their new Domino applications to cloud and getting them to market more quickly.
The last bullet on IBM Software Services for Collaboration Managed Business Services was run through quickly with no links or detailed information. Wait for June is the summary here. I will update this post and probably make another when more information becomes clear.

Next Document | Previous Document