IBM Domino 10 - very early thoughts
Tags :
domino10
domino2025
HCL

IBM made a small wave when they announced IBM Domino 10 and the partnership with HCL for development of the updated platform. A recent webcast with IBM and HCL shows an aggressive 2018 release date. I took notes on some of the highlights from the webcast and some thoughts on where we are headed are all mine.
.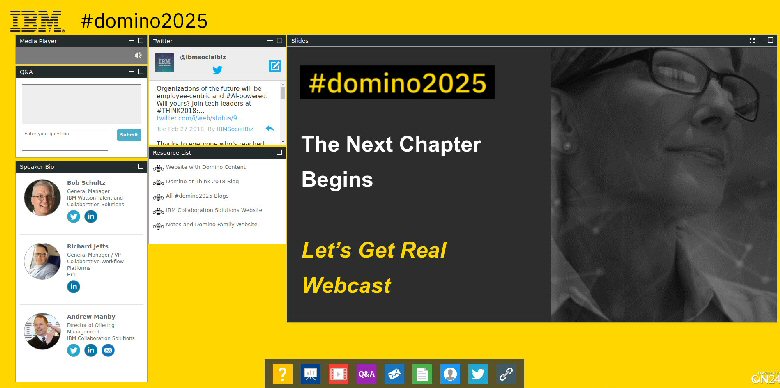 IBM held a series of in person Jams and then a web Jam to build feedback, enthusiasm and see where the needs were. Many die hard Notes fans flocked to fix things from years ago, while others looked to the future of what we need today. The combination of the two will lead to a thinner client and more functionality. Integrated with newer technologies.

IBM Domino 10 is still a moving target of features. I am hoping all of the below make it into the very first release and not some point updates later. They presented three main areas of themes with some great news in each one:

App Dev
embrace Javascript
node.js
ElasticSearch
Open IDE
LoopBack bundled in

Experience
world class mail and apps
faster and slimmer client
adding some requested mail features
anywhere anytime persistent chats
expanded Verse development
team calendars!?!
better handling in forwarding calendar invitations (not just delegation)

TCO
trusted, faster and bullet proof
automated database repair
256GB database sizes
replica sync
Docker Enterprise Edition images
simpler AD integration
SAML updates
ID Vault management updates
Microsoft Exchange Web Services
There was a short demo and talks of a much larger Proof of Concept demo at IBM Think 2018. A lot of questions were pushed off being answered until IBM Think as well. I had hoped for some more answers on teh call for those not going to IBM Think
There was also one slide with the following acronym and description on it:
Big Hairy Audacious Goals (VHAG)
I really have no clue what that is or what it means or why it was a slide and it did not translate very well I would think.
Thoughts
IBM and HCL have a lot to prove to the community at large with this release of IBM Domino 10. They have the ability to showcase what is the leader in NoSQL database design that now will be more open and flexible. So many companies constantly say they are attempting to migrate away. With these new tools they really do not have to migrate away, but just update and use it as a platform.
HCL and IBM cannot string the release timing these features out though. A major impact has to come in the first 10.0 portion if they want the desired result. The .01/.1 and later won't make it anymore. That is what happened with 9.0.2 whe we moved to Feature Packs. Things just got pushed furhter out.
This new commitment in IBM Domino shows IBM is invested in what has been a cornerstone of their collaboration quadrant. Even with IBM Watson as the current market initiative, much of the data companies in collaboration hold was and is stored in NSF files. From archived mail to immense amounts of unstructured data. Analytics is a great idea, but ways to surface and work with the data is still needed. Faster interfaces and mobile options are jsut as important when phones and data speeds get faster.
If you missed the webcast you can still register and watch the replay on demand at the following URL
https://event.on24.com/wcc/r/1604026/E4363C68737A2E3762730F7DF6C24927
I am happy to hear your thoughts and I will have much more as the information becomes more solid

Next Document | Previous Document