IBM Connections Cloud enhancements for September 2016
Tags :
ibmconnections
cloud
ibm connections
ibmverse

IBM has released what's new for IBM Connections Cloud for September 2016. Here is some of the updates.

SmartCloud Notes
Verse
Choose a font and size for all your messages
Now you can set a default text for the body of your mail messages.

Mail and Calendar tabs tell you when you have something new
The Verse Mail and Calendar tabs have new icons and they show a red dot when you have unread mail or calendar notices
Offline mail settings have a new home
Now you can set up and change Offline Mail settings in Mail and Calendar Settings.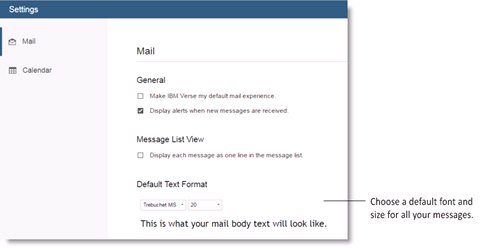 Set a date for follow up
Up until now you've been able to mark messages that need follow-up by today, tomorrow, one week, or anytime.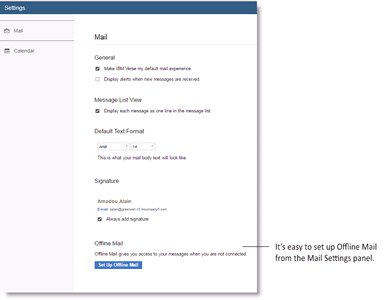 Find content fast by refining the message list when offline
When working offline, you can refine the message list by time and folder using the refine message list icon
Type ahead improvements
Verse knows who you mean when you're addressing email to someone who just sent you email.
Mobile for iOS updates
The latest IBM Verse for iOS mobile application update includes compatibility updates for iOS 10 intended to provide no disruption in IBM Verse usage as users upgrade to the new version of iOS.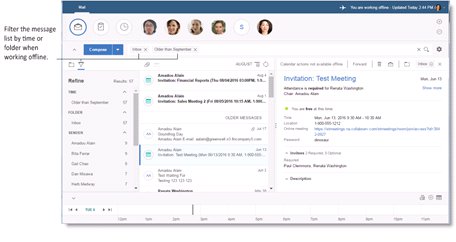 Administrators
Mail Onboarding Manager for service-only organizations now available
With this release, IBM now supports migrations from a Notes/Domino on-premises and Exchange 2010/2013 on-premises servers to a service-only organization hosted in IBM Connections Cloud. For additional information, see

Mail Onboarding Manager provisions new users

.
Revoke a user who was previously provisioned using the Mail Onboarding Manager
Users who have been provisioned using the onboarding tool are listed on the tool's Complete page. While they are listed there, you cannot add subscriptions or resubmit the user for provisioning. With this release of the Mail Onboarding Manager, you can perform a revoke action from the Complete page of the onboarding tool. After the user has been revoked, you can add the user to a subsequent transfer group and re-provision the user at a later date. For additional information, see

evoking a provisioned user

(hybrid environment) or

Revoking a provisioned user

(service-only environment).
See the previous IBM Connections Cloud enhancement
posts
right here (and
previous SmartCloud
naming ones) on IdoNotes

Next Document | Previous Document