IBM Connections Cloud enhancements for January 2017
Tags :
ibmconnections
cloud
ibm connections
ibmverse

IBM has released what's new for IBM Connections Cloud for January 2017. Here is some of the updates.
Verse
Sign and encrypt mail by default
Protect the messages that you send. Now you can digitally sign and encrypt all outgoing mail and calendar messages by default. Go to Mail and Calendar Settings in Verse and select Security.
Calendar Inbox
Make better decisions when responding to calendar notices by viewing your calendar at the same time. The new Calendar Inbox organizes all your calendar notices in one place. This feature is being rolled out gradually to all users. Available on or after January 23, 2017.
Connections
IBM Connections and Box


Box is now integrated with IBM Connections Cloud - Community owners can add Box to their communities so members can view files and folders stored in Box. After the Administrator activates the Box integration the Box app will be shown as an available Community app under the "Edit Community" - "Add App" dialog. To grant access to the files and folders in Box, the Community owner must add the Community members to the selected Box folder.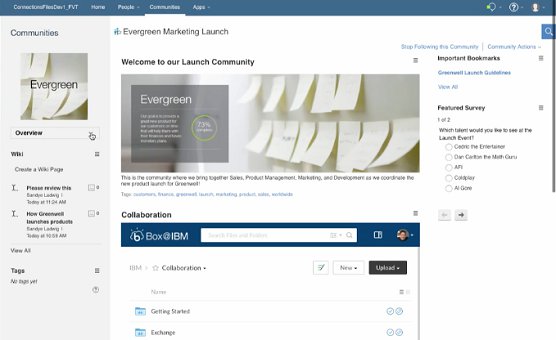 Authors using the Rich Text Editor for example in Wikis or Blogs can also embed links to Box files or folders to their page and even embed a file in preview mode on the page. A new "Embed Box" function is added to the Rich Text Editor once the Box integration has been activated by the administrator.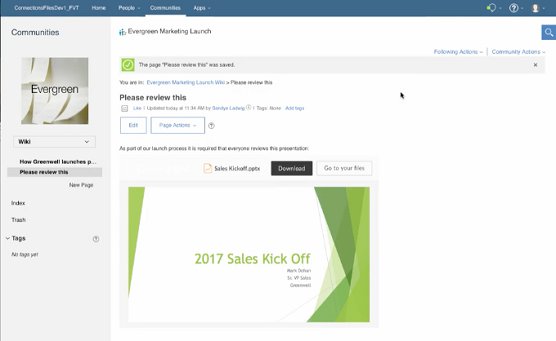 If organizations choose to use only Box for their cloud file storage administrators can now turn off IBM Connections Files so their organization's users will no longer be able to access or store documents in IBM Connections Files.

Note: When administrator opts to turn off Connections File because Box is in use, one will no longer be able to choose to share a file from Connections Files to a meeting, or choose to upload content to My Files when adding content to the meeting room library. Meeting Room reports can no longer be stored in Connections Files.


Audio Conferencing: New India toll number for Connections Cloud Meetings

There is an updated toll number for India: +91 223 9412510. Users who may have included the India number in their Online Meeting invitations, should update the Online Meeting information in their mail client.
Administration
Subscribe to What's New

Subscribe with your favorite RSS feed reader to read about new and changed features.

Be notified of new features and changes as they go live. Go to

What's New

and click Subscribe > Recently added articles in this category.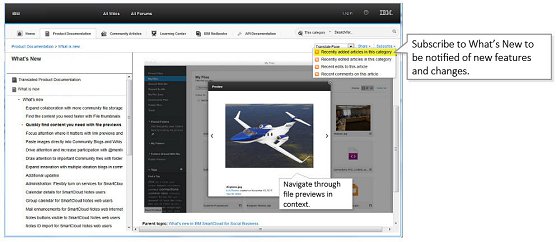 See the previous IBM Connections Cloud enhancement
posts
right here (and
previous SmartCloud
naming ones) on IdoNotes

Next Document | Previous Document