IBM Connections Cloud enhancements for August 2016
Tags :
ibmconnections
cloud
ibm connections
ibmverse

IBM has released what's new for IBM Connections Cloud for August 2016. Here is some of the updates.
Connections
Drag and drop multiple files and folders
Quickly organize files and folders. Now you can drag multiple files to a folder, or drag multiple folders to a folder. Personal files can be dragged into folders you own only. Community-owned files can be dragged into community-owned folders only.
Nest folders using the Connections Plug-in for Notes
The IBM Connections Plug-in for IBM Notes now supports nesting folders. Organize your content in folders the way you want to with nested folders. Work with both personal and community owned files organized in multi-level nested folders.
Use Desktop plug-ins in a Federated environment
You can now use the Windows Desktop, Mac, Notes and Outlook plug-ins in a federated environment. If you already have a separate endpoint for mobile devices, you can use that endpoint. Administrators must configure Connections Cloud and their on-premises authentication to work together for a federated environment.
Help and Account Settings menus have changed places
You may have noticed in Verse and Connections Cloud that the Help menu and Account Settings menu have changed places on the navigation bar. Account settings is now easier to find.
Verse
Mail signature has a new home
Mail signature has moved to Mail and Calendar Settings. Because it makes sense to put all settings in one convenient place, that's exactly what we did.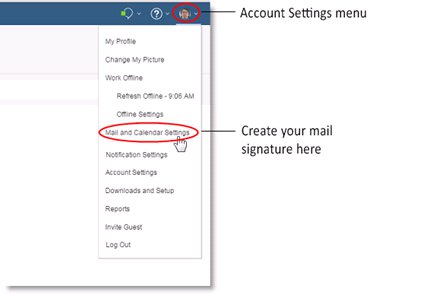 Filter the offline message list by attachments
Find attachments fast. Filter the message list by attachments while working offline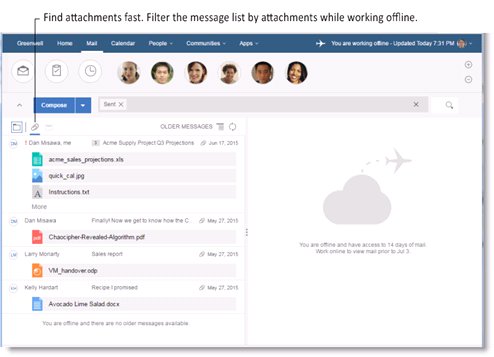 IBM mail sync for Microsoft Outlook now available with IBM Verse / SmartCloud Notes

The new MS Outlook Access subscription lets you access your mail with Microsoft Outlook.
Mail features
Create, edit, send, receive, and move folders, messages, and conversations
When you first set up the client, when mail is synced, type-ahead recent contacts are also pre-populated, based on mail file content
Notify people when you are out of the office
Encrypt and digitally sign messages when connected to a server
Search, filter, and categorize mail

Calendar features
Create, update, cancel, accept, counter, and decline meetings, events, and invitations
Find and reserve available rooms
View availability of invitees.

Contacts features
Create, update, and delete contacts

Other features
Give others access to parts of your mail file
Administrators
API rate-limiting framework
API rate limiting is now active in Connections Cloud

IBM Connections Cloud has activated API rate limiting, which allows IBM to establish limits on resource usage and ensure that all tenants have access to needed resources at any given time while maintaining expected SLA availability expectations.
Connections Cloud has defined a default API threshold of 1000 calls per minute, per user (complex APIs may have a lower threshold). When the API rate-limiting framework identifies a user making requests over the allowed threshold, those requests will be rejected with the appropriate response code provided. The application will have to wait one minute before making another request for that user session.
If your application for example receives the 429 HTTP status code, it is likely that the application has encountered rate limiting. IBM has prepared a guide called Understanding API rate limiting to help you avoid rate limiting, and to detect and correct applications that encounter it. This guide will be available in the Connections Cloud Developers wiki in the coming weeks.
Limit file size and access
As an organization administrator, you can now limit access to files in your organization. You can also set the size of a file that users in your organization are allowed to upload. Connections Cloud Files and Activities can support the upload and download of individual files up to 10 GB, but files larger than 2 GB will not be scanned for viruses.
SSO support for on-premises Microsoft AD FS
The Connections Chat and Connections Meetings mobile apps now support authentication against on-premises instances of Microsoft Active Directory Federation Services.

New method to add users
If your organization tries or buys a Connections Cloud subscription through the Universal Marketplace, your organization will be provisioned a little differently.

Set up a smart host to ease moving to the cloud
In a service-only environment, when users are migrated from an on-premises legacy mail system to SmartCloud Notes®, administrators can use a smart host to determine where to deliver mail. The smart host continues to route mail to the user's existing mail system while the user migration is taking place. So during the migration, some mailboxes can be in SmartCloud Notes and some in the existing mail system. That allows administrators to migrate small groups of users, rather than migrating all users at once.

Evaluate SmartCloud Notes mail using production mail files
SmartCloud Notes administrators in a service-only environment can configure dual delivery for their production mail files. With dual delivery, mail will continue to be delivered to your existing legacy mail system on premises, and will simultaneously be delivered to SmartCloud Notes® mail. That allows users to evaluate SmartCloud Notes mail using their actual production mail instead of using a test mail file. Dual delivery is supported for Microsoft Exchange, Microsoft Office 365, and Gmail currently. However, dual delivery might work with other legacy mail systems as well.
See the previous IBM Connections Cloud enhancement
posts
right here (and
previous SmartCloud
naming ones) on IdoNotes

Next Document | Previous Document