home8 Elder Care Security Kit review
Tags :
home8
product review
security
elder


home8 has put together an Elder Care Security Kit including a security shuttle (hub), wide-angle and remotely controlled movable camera, a panic button and two tracking sensors. We look at the control app and more in this review.

Overall, the home8 Elder Care Security Kit is a good collection of gadgets to give you a better feeling that your elder family member is safe and can reach you (and you them) at any time. You can even peek in via video when needed. See the full review as we break down the equipment and application below.

The Security Shuttle
The security shuttle (or hub) has a built in router with firewall ready to go. It supports standard 802.11 b/g/n and also has a ethernet port on the back. I chose to locate this near somewhere I could use the ethernet, yet still centrally locate it in the house. It has a built-in 80dB siren that can be triggered with the panic alarm and remotely. The shuttle itself is a very thin plastic and it is incredibly light in weight. There is blue and green status light along the front that are very bright. Internally is has 4GB of storage but there is an alternate USB 2.0 port on the back for adding external storage as needed.

We had no issues getting this working right away. Plugging it in and connecting the app from our mobile device (more on the app below) was simple. Make sure to centrally locate the shuttle to hear the siren and also give range to the panic button and sensors. They include a small quick start guide but nothing more. I would hope for a more advanced guide online.




The Twist HD Camera
The camera is a winner for ease of use and function. The Twist part of the name comes from the ability of this 100 degree wide able lens camera to rotate 300 degress via the application. Tilt setting must be done manually, but the pan ability is all remote controlled. The camera has night vision, a built in ability to listen to audio and even speak through the camera. It has a microSD storage card slot for up to 64GB to capture whatever video you need with alerts and triggers.

Panning was a bit slow but always worked. The ability to listen always worked. The ability to speak always worked but sometimes could be very quiet. For an elderly person with hearing issues this could be a hindrance for that feature. Night vision worked very well and the quality of the images were great in lighting. The app will let you capture video events (triggers or alarms) from all the cameras and watch live at any time.

Panic Button
home8 made to be so simple for anyone to work. A decent sized red button on a large white plastic case. It is not waterproof, so keep it away from showers. But the clip on the end, and the included lanyard, allows the elderly to wear this on their neck, hang it on a door or even a wheelchair or walker. A quick press kicks off the siren and sends notifications (all depending on your settings). We had good range with using it. Just keep in mind the Security Shuttle should be centrally located for both the siren and range of the panic button and tracking sensors. 300 feet line of sight is the maximum stated distance. Walls and basements reduce that greatly.

Tracking sensors
The sensors are small, not waterproof and worked right away. They do not come with any clips or ability to hang. They have an odd shape we show in the video and you are forced to use the provided 3M sticky strips to mount them. We can see that being easily dislodged or falling off. We hope they reconsider and make a clip or clasp for it. I would love to mount this to a walker, not just a coffee maker or pill container. The sensors supposedly work up to 300 feet in line of sight. Nowhere in a house do you have 300 feet line of sight. So use some testing and make sure the Security Shuttle is centrally located for best coverage.

The home8 Application
This review area could be huge. So let us summarize and allow the video to cover the rest. The home8 systems have tons of capabilities. THe app is designed to let you do everything for all of the systems. We wish they had some scenes or options to reduce the homescreen on the app to what I bought. For example, we do not have the medicine kit nor temperature sensors. We do not need those huge options available on the screen, they just add complexity. Even advanced security features that are not part of this kit seemed exposed in the app.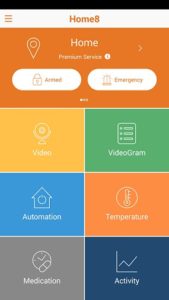 We did appreciate how easy ti was to allow additional family to be added as users. So you could share viewing ability and tracking. There are many notification options for family and a place to store local emergency numbers. This means the app can then push the number to the phone so you can quickly make those calls. You can store doctors or anything else in there you need.
The app never crashed during any usage. Some of the ways to get to configurations could be done through various paths and clicks. There is no advanced help via the app. Like screen demos and how-to steps. That was disappointing. The FAQ link in the app was a wide variety of things, but nothing specific to setup or detailed instructions.


Overall
This is a good kit that I see they put together from other options they have. home8 has a nice suite of security products and add-ons, but chose to put this combo together to target elderly care. Add on the medication tracker they offer and you have a great way to keep tracker of the elderly, or anyone with needs, at home that just need that extra set of eyes and communication.
You can find this kit on the home8 website,
Amazon
(affiliate link) and even
Best Buy
(affiliate link) in our searches. Prices varied greatly, so make sure to check them all.
Also if my reviews are helpful, even if not buying, click the Yes on Amazon and the thumbs up on YouTube. Please see all the
product reviews
here on the IdoNotes blog and subscribe to the SpikedStudio channel or
product review playlist
on YouTube . We also have a ton of smaller CES2017 review on the
Spiked Studio
blog site.

Next Document | Previous Document