D-Link DIR-879 AC1900 Router setup and review
Tags :
product review
router
dlink


We do like this D-Link DIR-879 AC1900 router and extender with one caveat we cover later.. The packaging is just as sleek as the router design. While the design really only offers a fourth antenna, they make it look a bit more futuristic. Inside the box is the router, a quick start guide, some actors for mounting, the power supply and a small thin ethernet cable.

Setting this up is so simple. The wizard pops up the very first time you run the router showing you the steps to get connected to the Internet and also the wifi password is available on the bottom, a sticker on the top and the screens when you log in. They made that so simple for anyone to set up.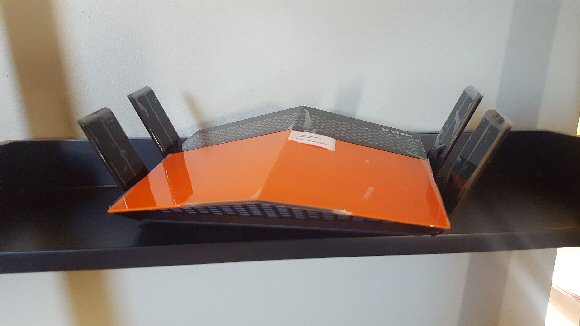 The DIR-879 router has an orange status light on the front and it sits at a weird angle we show in the video review. On the back is the WPS quick connect button, four ethernet ports, the Internet port, power button, reset button and a switch to change router modes. This is quite unique to have a switch to move from standard router to extender mode. However, this did not work until after the firmware upgrade. We cover the upgrade in the review video. You will need to either download this and apply it, to check for the update once you are connected to the Internet with the router.

The D-Link management screens do allow you to get into more advanced tools as some need and would expect. They just keep the main ones simple for the everyday casual user. We liked it had many of the advanced features we were used to and need. But appreciated many users do not ever need to see some of them so having advanced menus made sense.

CON: The drops the D-Link DIR-879 gives. We watched with a wifi analyzer the router signal just vanish sometimes. When we were feet way. This was mainly in the 2.4GHz range for us. We did not see it as often in the 5GHz ranges. We show the range meters live in the video. Until this is fixed people will not be happy to get random drops of signal.

Overall, we liked the stylish look, did not like the weird slant it had. We loved the ability to switch modes easily, did not like that so many had issues and you could but this before that even worked and had to wait for firmware upgrades. We liked the standard four internet ports in the back, did not like the tit was missing a USB port for file sharing or storage like so many models now. A solid four stars with the firmware update for us. If we get too many drops we will likely move this to a three star until they fix it with yet another update.

You can grab yours today on Amazon (affilaite link) at http://idonot.es/dlinkdir879. Also if my reviews are helpful, even if not buying, clcik the Yes on Amazon and the thumbs up on YouTube. Please see all the product reviews here on the IdoNotes blog and subscribe to the SpikedStudio channel or product review playlist on YouTube

Next Document | Previous Document