IdoNotes Episode 88 - Sametime Community icons and free download
Tags :
Sametime
community
icons
awareness
presence



Since 2006, when I first posted a set, I have used different icons for the multiple Sametime communities I connect to. I can then blend groups by project or other means, not just public groups. What you get is icons showing which community the person is associated with. The steps are easy to do and I have attached a grouping of ones I have in use. For example a cool green one for Lotus Greenhouse, yellow for BleedYellow and some fun ones you will find enclosed.

Icon link: Feel free to grab or redistribute


You can also watch this podcast in HD on YouTube

Below is the preference panel where you add the icon in and select it for the communities. You can find this in the community settings for each individual community. Remember you must also enable the ability to see them in the buddylist preferences screen.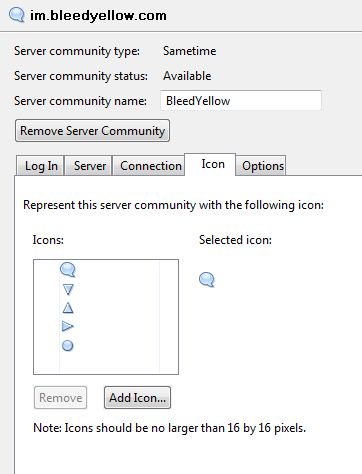 Next Document | Previous Document