iDevices Thermostat (HomeKit enabled) review
Tags :
product review
iDevices
HomeKit
Thermostat

iDevices has a line of products for the home using Apple HomeKit technology. I had the chance to review the iDevices Thermostat in my first jump into Apple HomeKit technology. You can see the full review video here on Amazon.

Apple HomeKit technology provides an easy and secure way to control your home's lights, thermostats, and more. Control your iDevices connected home products by using Siri on your iPhone, iPad, and iPod touch.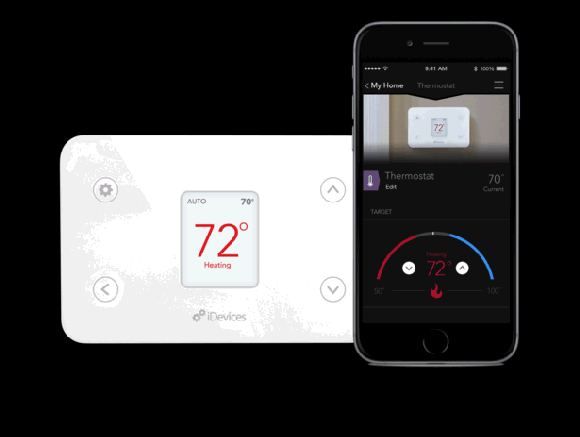 We found the setup of the
iDevices Thermostat
simple, the app stable and programmability and on the fly changes good. I currently have a split zone heating and cooling install (with Nest already in place in one area) and an older programmable thermostat in the other. We went ahead and replaced the old programmable one with the iDevices Thermostat.
As you see in the
review video on Amazon
the box contains the iDevices Thermostat and necessary mounting screws. Everything else you should already have in your home. The wiring codes are inside the thermostat wall plate piece so matching up wires was pretty simple. You can always go on the support website or make a call and their team is reportedly (by other reviewers) quite helpful and speedy. I also did not have to tell it much about my HVAC setup, just a couple things and it knew the rest.
The
iDevices application
is so easy to understand. Once your thermostat is online and ready the app will look for it in the house. It find mine on the first try and we were into setup mode. You can set numerous variations of programs for heat/cool/away. You can easily trigger this (once you establish your iDevices account) remotely to have it turn on and off for you as you get close.
The thermostat unit itself is harder to work with than the app, which is why we dropped a star in the Amazon rating. They make it clean looking and sleek but if you want to do some things right there without a device it takes a lot more clicks since there is only 4 buttons. I did not want the kids having the app installed yet (so they just don't mess around with the temp) but I found using the display only was a bit longer effort.
Overall I really like the UI of the iDevices app, the simplicity of the install and setup and functionality as they update the app as well. I will update the review if anything changes. See the thermostat video review on Amazon for more.
iDevies make a lot of products that include the thermostat, controllable power sockets, kitchen thermometer, grill thermometer, switches, outlets and more. You can get your hands on the iDevice technology today from Amazon right here at
http://idonot.es/idevicesaz
and their website.
See my review video on the Amazon page.
Please see all the
product reviews
here on the IdoNotes blog and subscribe to the SpikedStudio channel or
product review playlist
on YouTube

Next Document | Previous Document