IBM Connections Cloud enhancements for June 2016
Tags :
ibmconnections
cloud
ibm connections
ibmverse

IBM has released what's new for IBM Connections Cloud for June 2016. Here is some of the updates
Verse
Filter messages to show unread when offline

Filtering messages by unread messages is not new, but having that feature available when you're in offline mode is. Tackle your inbox and get organized by identifying which messages are new and which ones have been read. A new envelope icon now appears in the message list toolbar. Click the icon to toggle the display to show only unread messages. The unread filter works on messages in the inbox and folders. It is not supported for search results.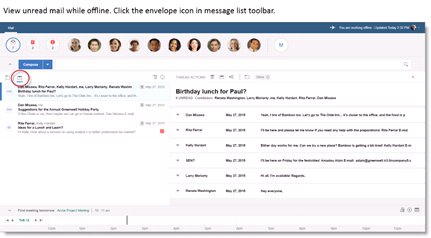 Change the width of the message list

We know everyone has laptops and desktops with different screen sizes. Some people like to see more of their message list while others like to see more of the message content. Now you can change the width of the message list to a size that you like by simply dragging the separator left and right.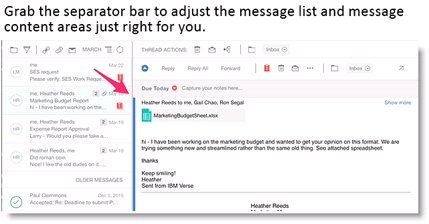 Mail and calendar settings

You can now configure key settings directly in IBM Verse. Settings are available on your profile photo by selecting Mail and Calendar Settings. Initially, you can only select a condensed view of the message list. Additional settings are coming soon!

New streamlined message list

Now you control how much information is presented in each message in the message list. The default experience today shows the receipients, date/time, subject, and a snippet of the message on three separate lines. With Mail and Calendar Settings, you can now switch to a condensed view of the message list that presents each message as single line.



Never miss a meeting with calendar alarms

IBM is pleased to inform you that calendar alarms for IBM Verse are coming soon. Verse displays a small message on your desktop before your meeting is about to begin.

IBM Service Request Tool
IBM Service Request (SR) - Manage your support tickets online or via the IBM Technical Support App
Key benefits of using the SR tool:
Real time service request management – SR provides online access to submit new issues, view updates made by IBM, provide updates and responses when required.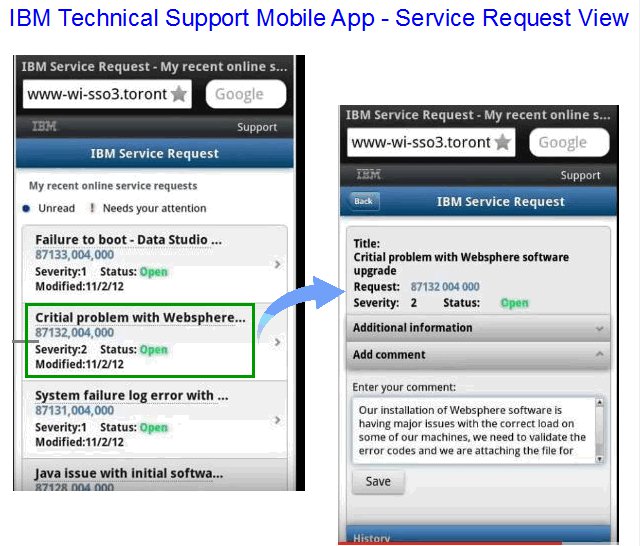 Faster creation of service requests – the SR tool allows you to maintain a user profile which simplifies and shortens the service request creation process. Your profile will include:
Contact information (email, work and/or mobile phone numbers)
A customized list of products or services you normally support
Submissions via the SR tool immediately get a Service Request # assigned.
No waiting for acknowledgement that your email was received and a Service Request created
Easier collaboration on service requests across your department or company (or backing up a colleague) – with secure and fully authorized access to SR you'll be able to view and/or update all of your Connections Cloud service requests online.
Useful reports – SR has comprehensive reporting capabilities to monitor all of your service requests. Sort and filter your report to your liking and even download it to a spreadsheet to allow further customization.
Add references to your internal tracking tool for cross reference into the Service Request Submitted

Note: Using the SR tool will only change the method of how you open and/or update an IBM Service Request and now how IBM responds to your request

For further information about the IBM Service Request tool please reference one of the links below:
Connections
Metrics
Organization administrator can now get meaningful metrics that demonstrate the business value of IBM Connections in your organization. Community owners can track unique visitors, information shared such as comments, and participation in activities such as downloading files.

Connections Docs
New Features in Documents
With the Documents editor, now you can quickly insert an image by dragging it from your local file system and dropping it into IBM Docs documents. With the Spreadsheets editor, you now can choose whether to hide or show grid lines from the main menu. Click View > Grid lines in Spreadsheets to see grid lines.
Desktop Plugins
Upload Files Up To 2 GB
This is a beta feature available to all users of IBM Connections Desktop Plug-ins for Microsoft Windows, IBM Connections for Mac, and IBM Connections Plug-in for Microsoft Outlook. The upload of 2 GB is an increase from the previous limit of 500 MB.
More Options When Saving Files
With IBM Connections Desktop Plug-ins for Microsoft Windows, you now have new options when saving a document in Microsoft Office. You can have an option to choose the folder location in IBM Connections where you want to save the file. Instead of saving a file in the default My Files location, you can save it to a folder in My Files or in a community.
Enhancements Within Mac Finder
We've enhanced the context menu in the Mac Finder by introducing icons and cascading sub-menus for the IBM Connections for Mac Plug-in. We've moved the IBM Connections menu higher up the context menu in Finder. And to make it easier to check when you last synced Connections, the Finder context menu shows the latest sync date and time and alerts you to sync issues.
Read more about these enhancements right here

See the previous IBM Connections Cloud enhancement posts right here (and previous SmartCloud naming ones) on IdoNotes

Next Document | Previous Document