Hosted Notes - yeah we offer it better, bluntly
Tags :
LotusLive
hosted Notes

Lotus finally announced LotusLive Notes to officially launch August 24th. While they are giving you a huge price break in licensing, you are only licensing mail from everything published I can read (Ed Brill, Collaboration Matters, Volker weber). The breakdown is easy:

For $5/user/month you get 25GB of mail, calendar, tasks and instant messaging. You also operate in a multi-tenant architecture
This is great if Lotus was just an email client. It seems Lotus was pushed into making a cloud offering and have coded Domino to finally allow multi-tenant from Notes clients, not just the web as old XSP mode did. Ed's posting compares them against Exchange hosting and Google mail hosting.
EDITOR NOTE: I applaud all the hard work from the Lotus team in making this happen, do not mistake that portion. I just don't get the move into the space is all
So why does this tone of this posting sound bitter? This is something we have asked for up to ten years now as one of the largest hosting providers Lotus has. The ability to serve smaller customers in this manner. But, we never intended to just offer mail. We want it all. Lotus has now written it, but apparently it is untouchable by partners, except to sell their service.
Our solution differs greatly: provided dedicated hardware, unlimited mailbox size based on the server you already choose and configure, DWA, XPages, application support, Traveler, instant messaging and presence through Sametime Limited Use, add on BES if you wish. The list goes on. You get the idea on the flexibility.
We stay away from multi-tenant machines to cover HIPPA concerns, SAS70 concerns, PCI concerns and more. Want your network isolated? We do it by default? will Lotus be offering your multi-tenant Domino portion through it's own dedicated network segment? Highly unlikely since you will hit the server over the same connection. How will you terminate your connection to their data center for a multi-tenant server?
Do we do that for $5/user/month? Nope. We flat rate the servers and let you pick what license you need from Lotus.
The point is don't overlook the bigger picture that Notes is not just email. The license cost is just email. If you want to really think about expanding your architecture for disaster recovery, remote clustering, outsourced management, and more you should know we built it.
Eat.Sleep.Host It is what we do.
Connectria Hosting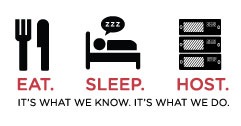 Next Document | Previous Document