Dog & Bone LockSmart weatherproof bluetooth padlock review
Tags :
product review
padlock
weatherproof
bluetooth


This Dog & Bone LockSmart padlock is a heavy duty, waterproof and Bluetooth enabled. It just rocks We happily got to see this at CES 2016 and couldn't wait to get it to test out. You feel the weight right away just from the packaging which has the lock and a micro USB cable to charge it up.

You find the charging port for the Dog&Bone LockSmart inside the orange rubber seal at the bottom. A single charge is reportedly good for 3000 opens or up to two years. The application that you need to work with the lock also has a battery indicator. Have no fear if the battery ever does you only need a few minutes charge to get it open.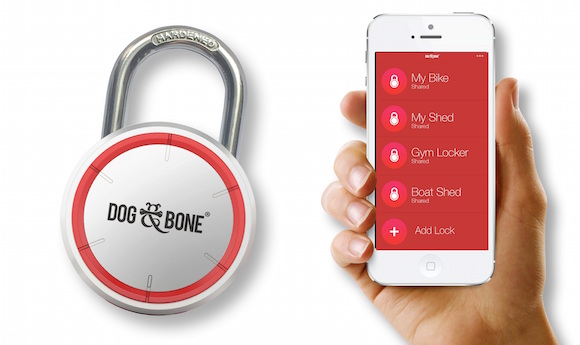 The lock itself has no keyhole or push pad mechanism. It is totally sealed except for the small slot on the bottom. With the flap closed, you push on it and it "wakes" the lock up for use. By default, the lock will stay in ready mode for 5 minutes. You can also enable battery savings mode in the app reducing that down to 20 seconds. It takes about 60 minutes to fully charge and the LED on the lock will show you when it is ready.

The application for LockSmart is very easy to use with a few awesome features. You can add so many of their locks into the app for single control. You can share a digital key with someone. Yes you send them a link, they download the app and get the "key" fro you to work the lock. Have no fear, you can revoke access and even see a running security log inside the application. You can share each lock with up to 50 users.

The application can also be used a few different ways. You can set a simple click to open, a passcode, or even use the fingerprint scan to open if your phone supports that feature. The OS needs for your phone is well listed on the website. Every newer Android and iPhone will have no problem.

The Dog&Bone LockSmart is weatherproof but giving it a good cleaning should be done for any outdoor lock. We had it outside for a few weeks in rain and had no problems. The range they list is from -20C to 70C which is super cold to super hot. We were able to activate and unlock it from many years away as well. It is all based on the Bluetooth range you have.

I had one fear and they answer it on their website. Once you pair a lock with an app you "own it". If you lose your phone, as long as you password protect your phone or the lock itself then it cannot be opened. You only need to log into the app on another device as yourself. Shared users cannot share your lock via sending a key with others for added security. Also you can transfer ownership of a lock to someone else form inside the app removing it from your control to them.

I see so many uses for not only this lock but the sharing of digital keys. With the weatherproofing and the cost point this is a winner to us.

You can get your hands on this lock today from Amazon right here at http://idonot.es/dblocksmart and their website. See my review video on the Amazon page.

Please see all the product reviews here on the IdoNotes blog and subscribe to the SpikedStudio channel or product review playlist on YouTube

Next Document | Previous Document