Google Chromecast Streaming Media Player (3rd Generation)
Tags :
google
chromecast
streaming
media

Google just launched the third generation Google Chromecast Streaming Media Player with a new look, some new features and the same price tag as before. It comes in white and charcoal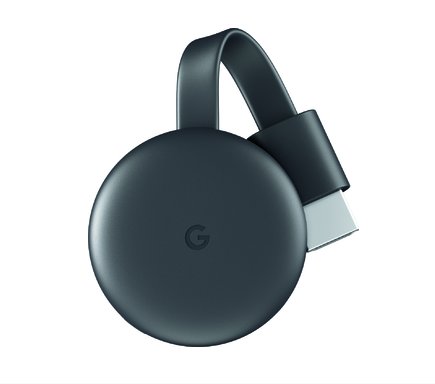 What does this new Google Chromecast version bring? In full 1080p you can stream 60fps which in previous versions was only available in 720p. Google also reports a 15% hardware speed improvement which should help with the new video capability. They also slightly changed the look of the Chromecast but since it sits behind the TV at most houses you never notice.
See It. Stream It.
The idea behind Chromecast
has always been the ability to stream content from all your mobile devices. I have been a Chromecast user since it first came out when set top boxes were very new or expensive.You can watch movies, shows, live TV, YouTube, share photos all from any family device.
Setup has been easy since the very first one. Plug Chromecast into a HDMI port, connect to it and start streaming. once you start streaming you can use your phone or tablet like normal which is a big bonus.
High-speed wireless connectivity
Built-in 802.11ac Wi-Fi connects to the Internet through your wireless home network (wireless router required and sold separately).

Compatible with your existing HDTV
Easily connects to high-definition televisions with HDMI connectivity.
Something else I love is the integration with my new Google Home. Just say what you want to play from any compatible content and you are in control hands-free. You must have Google Home, Chromecast and using the right apps but it worked very well.
You can get your hands on the Google Chromecast now online at
http://bby.me/8mht4
and in stores. Now back to me telling Google Home what I want to watch on a TV that did not have a connected device before.
#ad @BestBuy @madebygoogle *IMAGE

Next Document | Previous Document