Live blogging from Admin2005 Europe opening session

Debbie Lynd opened as usual with the brief conference information and overview. Attendance is good in the forum for the opening and from watching the attendees during breakfast, they are eager to get started and were planning their whole week in the conference guide.

Ed Brill - Business Unit Executive, Worldwide Notes/Domino Sales, Lotus Software, IBM Software Group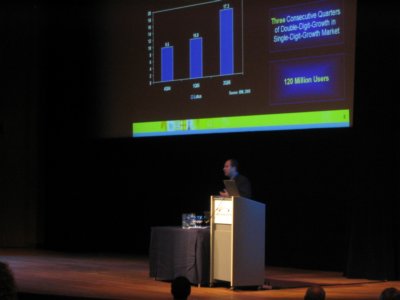 Here is a quick outline of what Ed Covered
120 Million Domino users all over the universe
The normal wonderful news about revenue growth
Domino 6 was 20 million lines of code with 3 years to get into market
Domino 6.5 was a step in reducing major release cycles
Domino 7 was back to the server side and performance, an incremental client improvement approach
Hannover will jump back to the new client and strategy for 12-18 month major releases
Then he jumped into the features/functions and fun on Domino 7 for quite a bit
We heard this, but it should be stated that Domino 7 was tested heavily in real world scenarios before release. This is apparent in the stability of the code since day one I installed it. I more than support that statement running ND7 for over a year now.
Continued innovation was the next section - announcements of the future
Sametime was the front runner here. The UI upgrade in

7.1

7.5 finally for the users in the second quarter of 2006 (not far away!)
Web conferencing has faster launch load time with faster screen draws and MRC load times
Then of course, Hannover with Activity Centric computing with a managed environment support model
Hannover showed some interesting looks for the interface, I swear when I looked up from typing the one screenshot almost caught me as Outlook. It was a showing of just the mailfile look. The full interface is quite cool with the tabs and cross integration
My Summary
: Domino is still chugging away at taking over more market space. Domino 7 was a large launch that is being watched because most everyone goes with the old mantra "Don't install a .0 release". Well, that is a load of crap for Domino 7. Move those servers up for performance reasons alone, the clients can come in time. Lotus is showing the world steady growth, seamless upgrades with a new standard installer for all platforms and continued development for the product line. NO rip and replace, and immediate benefit from scaling and functionality.
Uffe Sorensen - Workplace Client Technology Director, IBM Software Group - Northeast Europe
Here is a quick outline of what Uffe Covered
He made a semi-major announcement that I will cover in another blog post right away (it deserves it's own)
Open Standards was the focus of his openings
He used the huge 1904 fire in Baltimore as an example. Weird but it made sense. All the fire trucks that drove in could not connect to the water hydrants. No standardization! (let's not cover power outlets in the world today still)
The Managed Client was a list of slides and why there is a move in that direction.
From there he moved into slides around the foundation of the client technology
He actually ran his presentation from the IBM productivity tools for Powerpoint, quite a good showing of how he uses the technology
Note to Uffe: Too many icons on the desktop, LOL. I counted over just over 60
Uffe, as Ed did, went into a section for continued innovation.
Basically information is scattered everywhere and the user/person has to recall where all this unlinked info is. Even across different tools
The move of this is getting information standardized to grab it all and create the Activity Center for collaboration. This incorporates not only all the activity data, but the tools
His screenshot of the managed client just gets you more interested in playing with it, just like any good PR should do. A must have new toy until it becomes part of your everyday life.
My Summary:
The announcement made a few notes to be taken by attendees, that was good to see. The long path to show what is coming had many sitting patiently waiting for the new big bang screenshot, but I could see many had seen Hannover and knew what to expect. Talks on activity centric approaches always makes my head hurt to think about all the projects I have to deal with right now.

Next Document | Previous Document